Resisting commercial and resort development.
Four sources of destruction and colonization of Native Hawaiians:
---

1) Disease- Courtesy of Captain James Cook

2) Religion- Missionary influence. Hawaiians are taught to reject their gods and their cultural practices.

3) Force- Conspiracy to overthrow Hawaiian monarchy backed up by the U.S. Marines.

4) Tourism- Native culture have been continuously prostituted for tourists while natives live in poverty.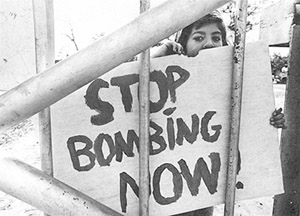 Protesting American military presence in Hawaii.
Hawaiian Sovereignty calls for:
---

Self-determination- the ability to govern self, their lands, their economies.

Human Rights- native Hawaiians are currently underserved by the current government. They make up the largest portion of those incarcerated, those living in poverty, etc. . . and lowest for those with a high school education.

Land Rights- this is the most vital aspect of the Hawaiian sovereignty movement because this is the basis in which the natives can implement self-governing of their lands and economy. The U.S. government currently controls "Ceded Lands" and "Trust Lands" which includes most public lands such as the airports, the land on which the University of Hawai'i is located, the harbors, etc. . . . Because native Hawaiians are considered wards of the state, they are therefore prevented from legally controlling the lands that have been given to them in name.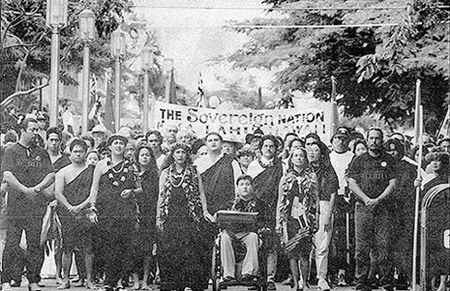 Marking the 100th anniversary of the illegal overthrow of the Hawaiian kingdom.
Ka Lahui Hawai'i:
---

Is one of the largest Hawaiian sovereignty movements in Hawai'i with over 20,000 members. They have issued a master plan in which the fundamental principles of their organization is listed. The following paragraph is but a small representation of their plan and their beliefs.
"The Ka Lahui Hawai'i Master Plan for Hawaiian Self-Government is founded upon a firm belief in and commitment to certain fundamental principles which set international standards for the protection of individual human rights and civil liberties, for maintaining the well-being and peaceful coexistence of our nation with other sovereigns, and for the protection and recognition of collective rights of our citizenry."